Posted by Jill Bosich on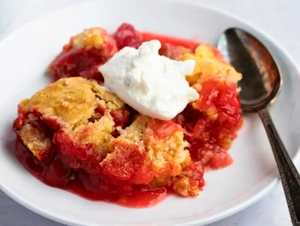 Now I hate to admit it, but this recipe is as easy as it gets. It calls for a box of cake mix, it's ok, we love half scratch recipes that cut the time in half! For those who enjoy that cake batter flavor, I've got your covered! This simple yet delicious dessert is the perfect way to showcase the bright, tangy flavor of fresh rhubarb.
Posted by Jill Bosich on
Now when I mention fruit and vegetable, it might make you scratch your head! Many confuse it with being a fruit, but botanically, it's a vegetable that we find ourselves serving as a fruit, sweetened up as much as possible, as on it's own it's incredibly sour but oh so deliciously tart!
Posted by Jill Bosich on
This is bar none, will be the most moist cake you'll ever taste. Even if you feel you aren't a "cake person", this beautiful recipe will delight you and quite possibly change your mind. As you can see, the finish is a dusting of powdered sugar just to make it really pretty, but it's truly not even necessary. It comes out of the oven gorgeous and ready to savor.